5 Top Tips For Healthy Summer Hair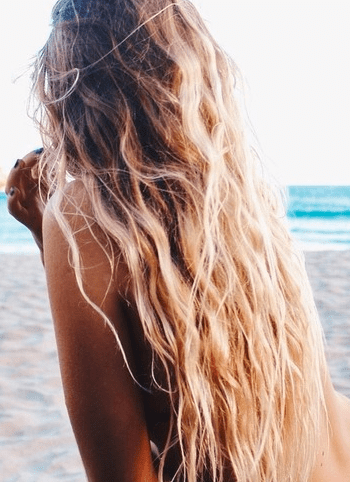 It's that wonderful time of the year again when the sun is out and we hit the beach, so for us it's important to give the hair some extra TLC during the summer months.
Here's 5 top tips from us to care for the hair.
Keep Conditioning: It's essential to hydrate hair for it to feel and look healthy, keep conditioning length and ends during the summer even though you haven't washed your hair. It's great to use leave in conditioners in-between washes through the length to inject a moisture kick to the hair.
Use Oils: Using oils are fantastic on hair and the scalp as it can sooth the scalp after being in the sun all day and it will smoothen and strengthen the cuticle. We love coconut oil due to it's heeling properties on the scalp and it's rich in vitamin E which will strength length and ends.
Go Easy On Heat: Take a little break from heating equipment like tongs, hairdryers and straighteners during the summer months as spending a lot of time in the heat and on the beach can dry the hair out. Leaving it to dry naturally will keep the hair feeling softer and in time allow the hair to recover from the heat.
Colour Boost And Seal : We offer a range of intensive hair treatments containing keratin and moisture with additional colour boosters to give the hair a vibrant touch to the hair. This treatment takes up to 20 mins to do and is great to do in-between colour services to punch the tone up.
Add Natural Texture: Instead of using tongs on the hair to create beachy hair we recommend to simply plait the hair when its dry. Start by spritzing sea salt spray on to length and ends let it dry for 1min then plait the hair I larger sections and leave for 5 min. Separate the hair with you fingers once you are ready to release the plaits. Use your hands to really shake the plaits out to add volume.